Miss B and I had the wonderful opportunity to head to Chicago this past weekend for the GFAF Expo. The highlight of the trip, for us, was being able to have breakfast in the hotel restaurant without fear. I had waffles with real maple syrup, half an
Udi's
double chocolate muffin, and a big dish of fruit. Brenna had a bacon omlet with Udi's toast and a big old glass of OJ. It's kind of funny that just being able to eat breakfast would be such a big deal.
Miss B and her American Girl, Julie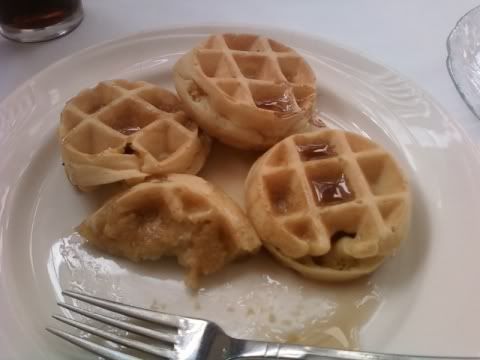 My GF/DF waffles - and btw, they were REALLY good!

My new shopping bag, LOVE it!

Miss B posing with the expo signage.
We were able to try a wealth of new product this weekend. Some of the things we loved (new Enjoy Life products, SWIRLS cupcakes, FoodsAlive Flax crackers, Pamela's Anywhere Bars) and some things... meh, not so much. Brenna got her copy of Cybele Pascal's book
Allergen-Free Baker's Handbook
autographed by Cybele herself. That was pretty fun!
Brenna actually spotted Ms. Pascal in the hotel fitness center later that evening. She simply could not believe that this "mega star" was using an eliptical!
We really enjoyed the entire expo and we really only had one slight disappointment. I was hoping to meet Shauna Ahern, but she'd had a family emergency and was unable to attend. It's all good though. I'm hoping we'll get to attend again next year, perhaps even take some of the classes being offered, too!